Welcome to Smart Pharma Consulting
Smart Pharma Consulting firm is a progressive consulting company that is providing technical, quality compliance and regulatory assistance to the healthcare industry with specific focus on:
Pharmaceuticals
Dietary Supplements
Biologics
Medical Devices including Combination Products
Using a combination of seasoned industry professionals and former FDA professionals, the company has developed the capability to provide efficient, ccost-effectivecompliance solutions (affordable innovation) to current industry problems, on budget, on time and Right-First-Time.
Our company's mission is to provide outstanding technical and regulatory compliance assistance to enable our clients to meet their product objectives. In fulfilling this mission, we act as a bridge from our clients problems to great solutions, developed in partnership.
The demands of the modern healthcare product industry are such that a one-size-fits-all approach is no longer relevant and this is giving way to a more tailored bespoke approach where boutique style and quality approaches are required to produce the right solutions with the appropriate quality.
It's important that quality is built in to assure performance and confidence and processes need to be streamlined to produce a portfolio of solutions to meet the variable needs of the client.
At Smart Pharma Consulting, we optimize user experience through our think-tank approach, which focuses on making an intuitive system rather than a mechanical system.
In fulfilling this role, we provide services in a number of broad categories including, but not limited to:
Quality Compliance
Regulatory Affairs
Training
Product/Process Development/Manufacturing
Laboratory Services
Project Management
Interim Monitor for Federal Trade Commission
Clinical Monitoring and Health Economics Evaluation
Consent Decree Consulting for FDA
We have expertise in solid dosage forms, parenteral pharmaceuticals, a wide range of biological products, vaccines, recombinant products, monoclonal antibodies, cell therapies, tissue engineered products and device-combo products.
Smooth Flow as an Answer to Cost Control and Quality Compliance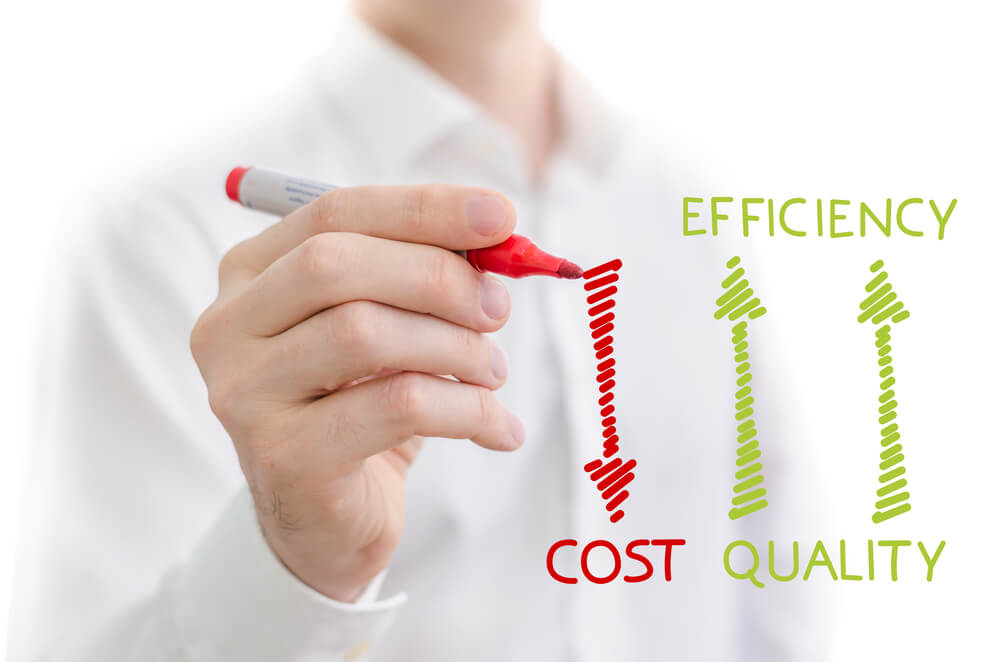 With the continued expansion of clinical products entering trials, the need for both clinical supplier audits and regulatory agency audits is set to increase significantly.
At a time when inflation and operating costs are on the increase, this is presenting problems for both industry and regulatory agencies.
If we look at private industry, from our experience, companies are looking for ways to reduce their operating expenses to reduce either their burn rates (in the case of emerging companies), or in the case of generic & branded product companies, to maintain margins and/or reduce their cost of goods.
Traditionally, we see operating cuts across the board to ameliorate this situation and two areas which frequently assume the brunt of these cuts are quality functions and training. This is ironic since both of these are fundamental to the lifeblood of the company. Without good quality products there is no company and without properly trained personnel, regulated products cannot be manufactured for market distribution.
In this respect then, they are very much the oxygen that keeps the company functioning financially, And yet they are often the first to be cut when there is a financial crunch.
In performing these drastic exercises, it is true that short-term gains appear to be made, if you look at the financial statements (P&L), but very soon, these cuts which produce a shortfall in these key functions, come home to roost!
These approaches are frequently justified using competitive analyses of related companies in the same space, but what this almost never explains is that everyone is engaged in the same exercise, so the industry problem is masked. Only a year or two later as resources have been stretched, does the impact of these decisions become apparent. Frequently this results in a bad regulatory inspection after several years of an apparent exemplary compliance record. What ensues thereafter is a massive panic stricken realization of what's occurred, whereupon resources are miraculously found to fix the self-inflicted problems/issues.
This is both de-stabilizing for the technical workforce and it raises a reputation flag with regulatory agencies, which can sometimes take a decade to overcome.
For public companies in particular, this can be a death nail, because stock prices frequently tumble, and this creates instability in the financial community.
At SMART, I've been helping companies with this type of issue for more than three decades and it's a cyclic relationship that, in the consulting industry, is often referred to as the feast and famine cycle.
This indiscriminate type of rationalization approach that companies often take is extremely destabilizing for the industry as well as being wasteful in the final financial analysis. A change in approach is surely needed.
At a time when we have supply chain issues as a result of the fallout from that pandemic, this is not a welcome approach and perhaps one that needs to be parked into our operating history, rather than continuing to perpetuate any further into the next decade.
The whole approach to quality management and training in relation to its impact on the bottom line of companies needs a refresh.
Over the last 20 years there have been numerous situations and obstacles about the value of quality and training, both financially as well as for product safety and quality. However, although improvements have been advanced, the same scenario is observed each time there is a financial crisis – whether this is product failure driven or whether it's market driven, (as appears to be the case currently, resulting from global recessionary conditions).
Having observed this same trend close at hand repeatedly, I believe this should not be an either/or situation to make, because with better planning and the application of integrated solutions to problems, it should be possible to run more efficiently.
Smooth running is the key here, so the plan needs to incorporate elements that make this a priority as it will drive both profits (financial), as well as regulatory efficiency. These elements should be congruent not mutually exclusive.
I draw on an analogy with motor racing to illustrate the point here.
To go fast and generate a winning style of operation in a racing car you don't break heavily upon entering a corner and then jump on the gas leaving the corner. You adjust your speed ahead of time, position the car to take advantage of it sets up and then you squeeze on the power as you transition the corner.
This produces the smoothest path around the obstacle ( the corner), and it is the quickest and most efficient way to reduce flap times.
Thinking about this it should be no different in our industry.
It takes an intention to plan ahead to do the right things (which includes handling spontaneous/unplanned events), but as we do these things it also requires discipline to continuously implement the strategies and to ultimately execute them correctly. This is often missing and so it becomes the stumbling block and a key reason for underperformance.
That is a better way to integrate cost control issues without these unilateral/across-the-board chopping exercises. If one does this the benefits are huge, in that one avoids this painful cyclical investment expense event.
What is required for the future success of our companies is high-performance thinking and high-performance strategies.
In planning this future, let's reimagine how we do business to meet these challenges and create a more compelling and attractive place to leverage the capabilities of our company teams.
In closing, remember the smooth flow example of the winning race car team, where this smooth flow strategy generates the champion results.
This approach is a more elegant solution possibility to running a business without sacrificing cost or quality.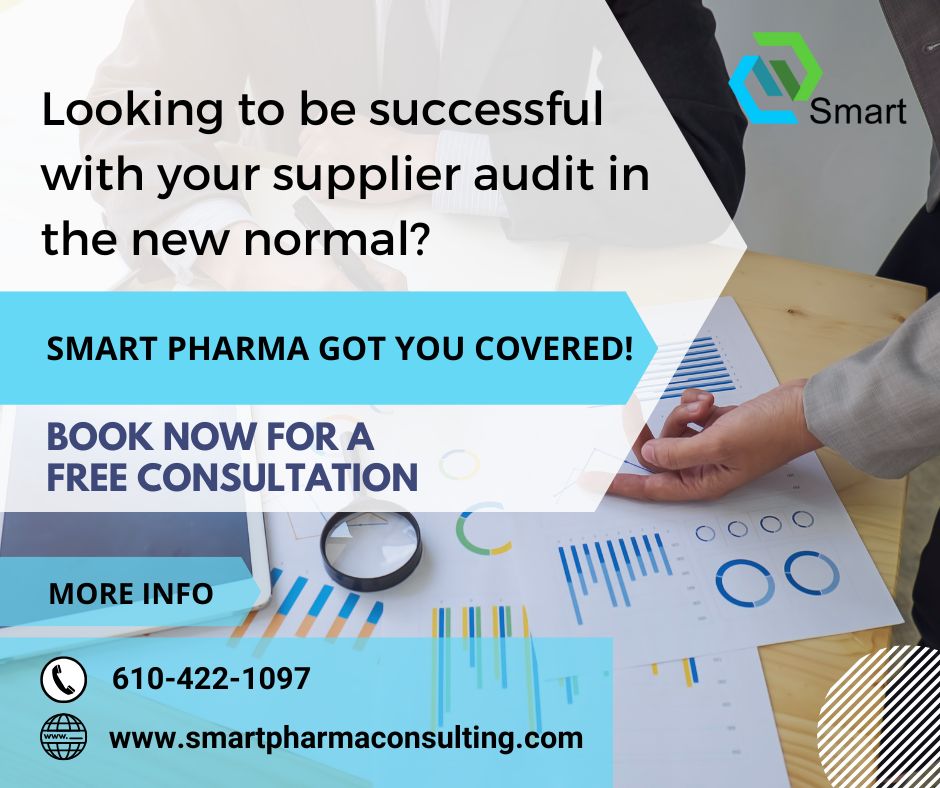 Client-Side Audits: Past, Present and Future. What is an Effective Mechanishm?
How to Create Real Competitiveness through Effective Integration with QA/QC
Problems with your Supplier Qualifications? Look no further…
Back in February 2020, seeing what was going on in Asia, we developed a protocol for the COVID-19 situation based upon a remote methodology and since that time we have successfully completed dozens of audits successfully. This includes both domestic and international venues. If this meets a need and you'd like to talk, please contact us at
[email protected]
, using our office direct line…610-422-1097, or simply push the button above on page 1 and let's make an appointment.
This is completely complementary, and we love to explore things with you.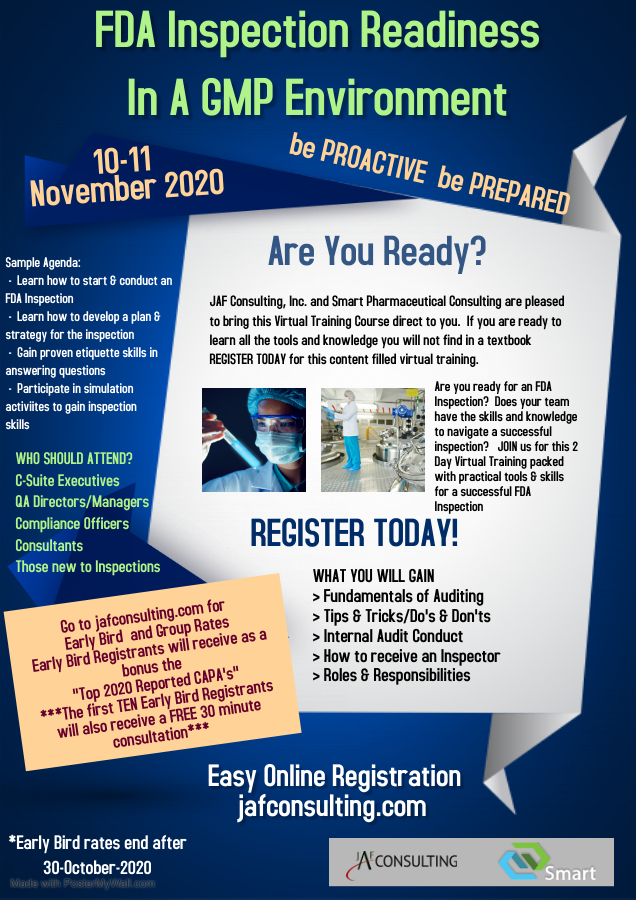 PLATINUM LEAN LAB PROGRAM
SMART is launching a new platinum Lean Lab program to help you fast track your productivity and improve your overall quality compliance.
U.S.-Made Meds Rely on Drugmaker Braving Scattershot Policies

Festival of Biologics USA presents the World Biosimilar Congress.
Meet Nigel at the World Biosimilar Congress in San Diego 2nd-4th March.
The Loews, Coronado, San Diego.
SMART PHARMACEUTICAL CONSULTING IS PLEASED TO ANNOUNCE THE AVAILABILITY OF THE DOT COMPLIANCE QUALITY MANAGEMENT SUITE SOFTWARE.
We are now US licensee of this software
Contact us for a demo and to consider obtaining a license for this efficient user friendly software for your product manufacturing.
This is an ideal user friendly system for start up and smaller companies that is expendable.

MEET NIGEL AT THE AMERICAN PHARMACEUTICAL OUTSOURCING SUMMIT IN PHILADELPHIA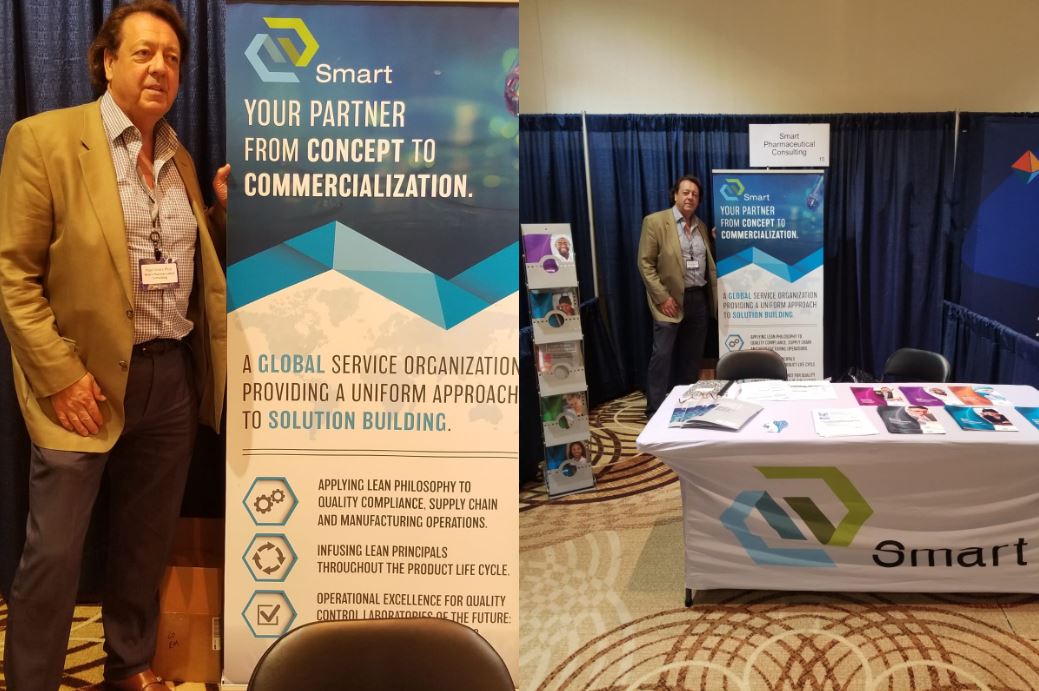 COME MEET US AT THE AMERICAN OUTSOURCING SUMMIT IN PHILADELPHIA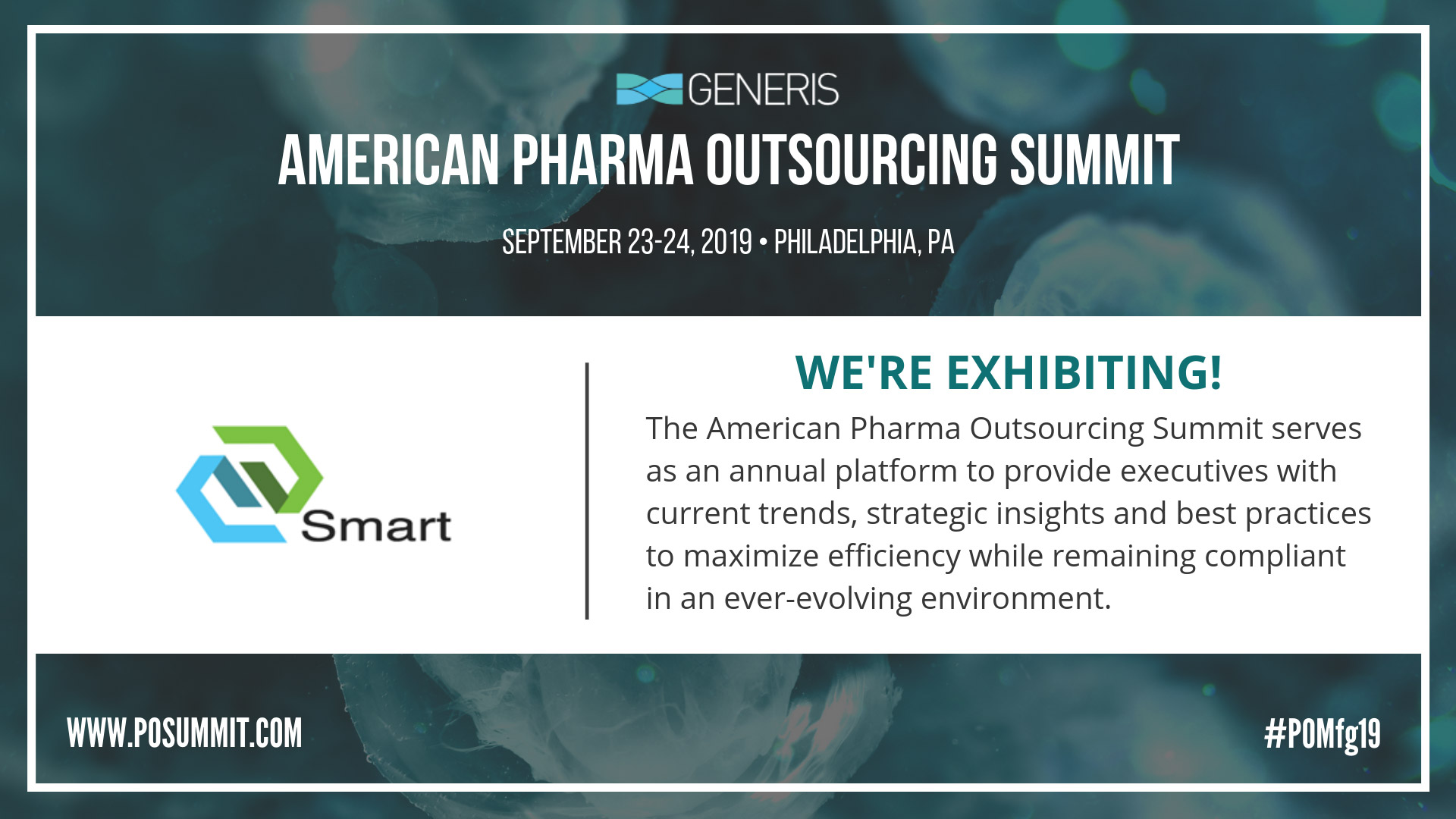 If you would like a full list of our services, please email us at [email protected] or call us directly at 610-422-1097. We look forward to hearing from you!
At Smart Pharmaceutical Consulting firm, we make it our goal to provide outstanding lean pharmaceutical consulting services to our entire client base. By doing this, we aim to provide nothing less than premier technical advice to our clients, who truly lean on our expert analysis and remediation practices. Let our team rev up your company's performance and compliance in no time.